Not everybody seems to be gung-ho over "Do You Have Cheeses in Your Art?," the current showing at the Manger Art House. "This exhibit of so-called 'art' exemplifies everything lewd and obscene in the world today," shouts Rider Lighthoof, one of several protesters standing outside the Manger yesterday. "I haven't seen anything this racy since Pocahontas. That overtly sensuous pile of dung was a mistake, and so is this."
See PROTEST, News 3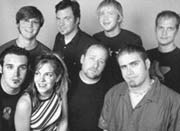 Five Iron Frenzy have been busy preparing for the release of their upcoming album, Cheeses of Nazareth, slated for an April 22 release on 5 Minute Walk Records. The Nazarethian has a candid talk with FIF, discussing the influences and inspiration behind this 8-piece rock outfit.
See BAND, News 4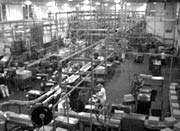 During this month's Cheese Weekend Celebration, people have flocked (once again) to the historic MaryJo Cheese Factory, where 80% of all Nazareth's cheese is produced. Find out some of the secrets that go into America's best dairy products; you may want to add more cheese into that famous pasta recipe of yours!
See FACTORY, News 6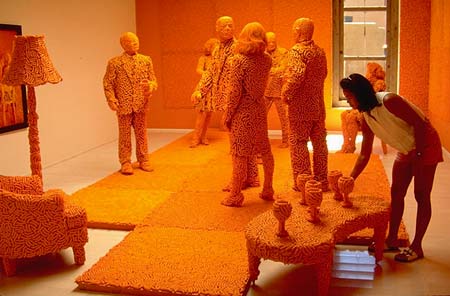 Music and the visual arts collide this weekend at the Manger Art House, where the formidable force in rock 'n' roll known as Five Iron Frenzy give themselves up to become a part of Nazareth's largest living art exhibit: "Do You Have Cheeses in Your Art?". Five Iron Frenzy, also known as FIF by their rabid fans, have graciously given up their valuable time and energy to this project, in what has amounted to three full weeks of planning, 60 volunteers, and 380,000 cheese doodles. The ongoing exhibit features several members of the band covered in Nazareth's very own MaryJo Brand All-Natural Cheese Doodles (see picture). The creator of the piece, Lucy Do, explains the significance, "This homage to cheese and music has long been overdue, being that Nazareth has a rich history of cheese production and consumption. Naturally, when a lactose-intolerant person (as I and many of my fellow Nazarenes are), eat too much cheese, music is the natural result. Beauty is in the release."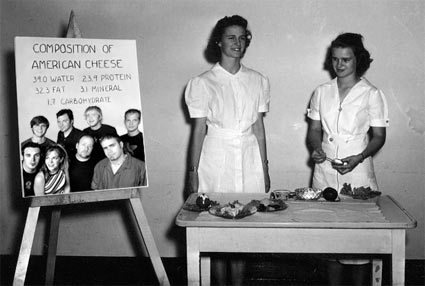 Five Iron Frenzy found out about the Nazareth festivities held every month through the American Cheese Society (ACS), where FIF all have lifetime memberships. After meeting with Lucy Do and the ACS, the band was sold on the "Do You Have Cheeses in Your Art?" project. Reese Roper, FIF's front man, exclaims, "Cheese has almost as much protein as it has water. And let's not forget the fat [grabbing his love handles]; this is the good kinda fat!"

In fact, The Nazarethian has come to learn that Five Iron Frenzy and the American Cheese Society have been campaigning together recently at schools and public meetings to bring awareness on the composition of American cheese. "We love cheese," declares FIF bass player Keith Hoerig. "Ever since the inception of the band, we have been seeking sponsorship by a cheese producer. Maybe this is our way in." If being the welcome guests of Nazareth weren't enough, FIF are also naming their next album after the town. Cheeses of Nazareth is the next project to be released April 22 on 5 Minute Walk Records. This project will feature B-sides, funny songs, and other songs "lost" in their 8-year history, to be revealed only on this album. FIF also plans on recording a final studio album this summer, currently untitled, and will be available on their farewell tour in Fall of 2003. This album will then be released in stores in 2004. More details can be found at fiveironfrenzy.com. It seems that the band has a busy year ahead of them... and to think, it all started here in Nazareth. Frank Tate, owner of 5 Minute Walk Records, states with confidence, "Cheese is in Five Iron's blood. You know it. I know it. Soon the world is going to know 'What Would Cheeses Do.'"